Pennsylvania Railroad GG1 4877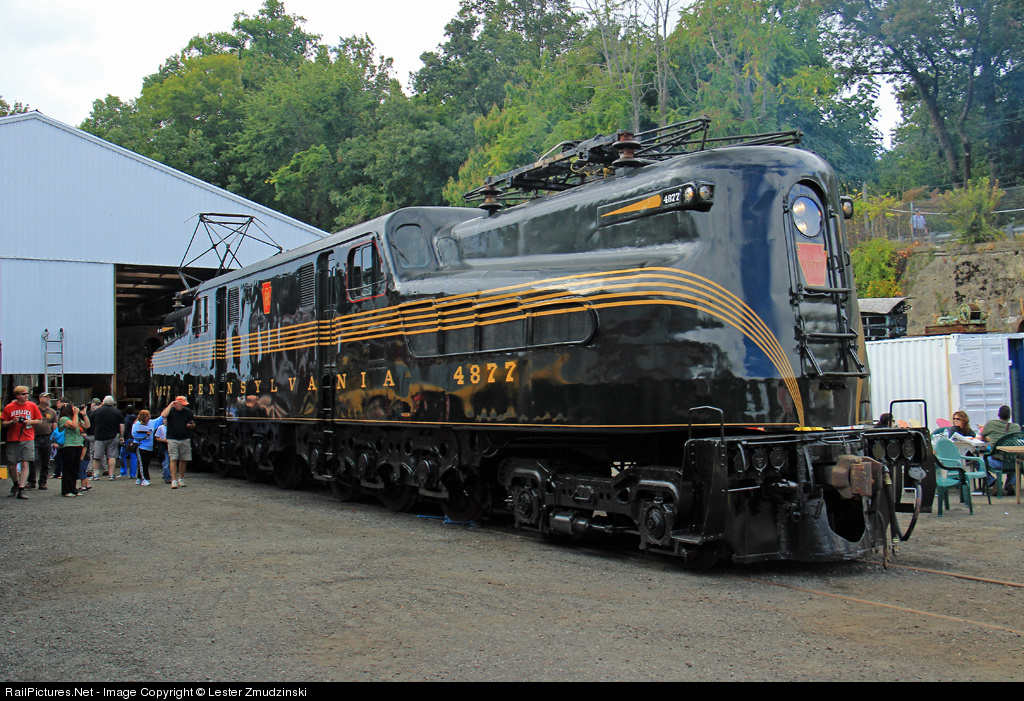 GG1 4877 is one of the highlights on the URHS collection. 4877 began its career on the Pennsylvania Railroad in December of 1939. Over the next several decades is served the Pennsylvania, Penn Central, and New Jersey Transit. When it came time for New Jersey Transit to retire the last of the GG1s, 4877 had the honor of serving as the last GG1 to pull a passenger train in New Jersey. In 1981, Jersey Central RailroadHistorical Society, a member of the URHS, partnered with New Jersey Transit to paint 4877 into PRR's Tuscan red paint scheme, giving it the nickname "Big Red". In October of 1983, it pulled the train dubbed "The Last Run of the GG1." This became the last run of 4877's careen when a breakdown required sister locomotive 4879 to save the train, earning it the title that 4877 would have had. Regardless, 4877 still hold a special place in the hearts of those who saw it traverse the North Jersey Coastline and across the northeast decades beforehand.
4877 was stored in Hoboken for almost a decade before being donated to the United Railroad Historical Society in 1991. Over the course of the next decade, it was stored under the protection of the URHS until grant money was found to restore it. In 2005, Star Trak Inc. began work on the rust-damaged body. It was not until 2011 that the final coat of paint was applied. The URHS elected to paint "Big Red" into it's as-built Brunswick Green paint scheme to remain true to the locomotive's history. The finishing touches were put on by volunteers in Boonton yard and in 2013, the URHS can call the 4877 project "finshed" in time for the 30th anniversary of the locomotive's retirement.
While the pantographs may lift, and the headlights illuminate the track, we may never again see 4877 operate in regular service for a miriad of reaons. All GG1s were gutted of key components before being donated due to safety concerns. Even with those parts, GG1s cannot run as-built on modern electrical systems or without modern cab signal equipment. GG1s were also imfamous for experiencing damage to their 35-foot cast-steel frames and have been repaired with more welds than would make them safe by today's standards. Even not in operation, 4877 still makes a beautiful display piece and will be a highlight of the future New Jersey Railroad Museum. 4877 can be see by the public at the yearly URHS Transporation Heritage Festival (September 21, 2014).
---
Photos of 4877
Hover over to view description.